So here I am at the end of my first full week as an intern at Sean Busher Photography. Angi (my immediate boss) and I came up with my official title today and I believe as of right now I am considered "The Apprentice" but we're working on making it more exciting. THey all have fun titles--I'll try to remember to post them later. I have lots of pictures to show!!! Here goes: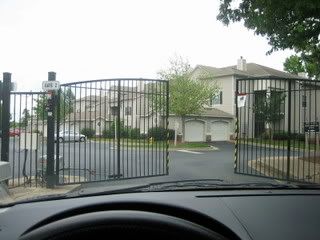 This is the entrance to my apartment complex. I get to use a little remote to open the gates and everything! Fun fun!
This is the view from where I park, I'm up on the third floor... yea that's a lot of steps!
Here's the view of my apartment from the front door. CHeck out Crackers eating in front of the fire place... now that's LIVIN!! Haha Big windows, very very nice, bright, and uplifting.
Not much to explain here, except that the stool you see is the only place to sit in the kitchen/dining area. Hey, when you live alone, who needs a table and chairs?? You can see the island is already becoming my "catch all" collecting place.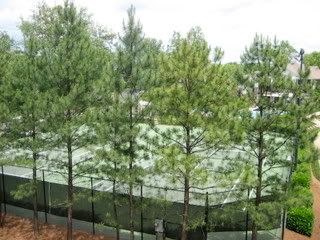 This is the view from my balcony (yep I've got a balcony!) There are 2 tennis courts, and if you look closely, a pool! Yippee, I can get tan this summer!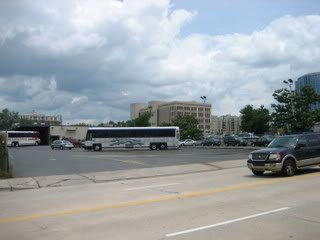 This is the bus station where... sadly... Eric left from. We said our goodbyes in the rain (much like a movie) and now I get to walk by the station and think of him twice a day. This station is about half a block from where I work. Eventually I'll take some pics of the place I work.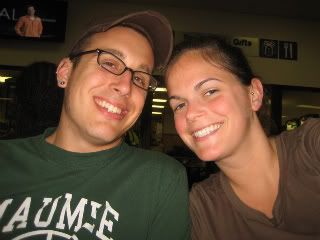 Here's us at the station, saying our goodbyes. Sigh... PS don't I look tan!?!?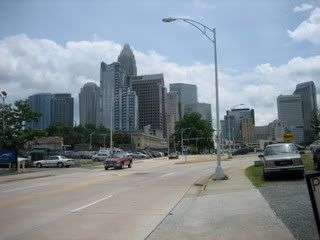 Here's a view of downtown Charlotte from my walk back to the station. The building third from the left is my favorite. I love the way it is shaped, seems unstable to get smaller at the bottom, but that's what makes it so cool. 
Ok check out the next post for more pics!