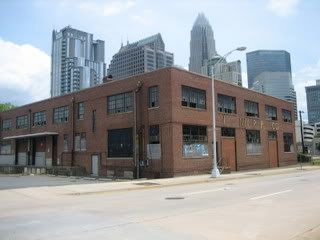 This is the sketchy building I walk by on my way to and from work. This stretch is the only part of the walk that ever makes me nervous. The building used to say Virginia Paper Company but now all the windows are busted out and there's glass everywhere. Prettttty weird.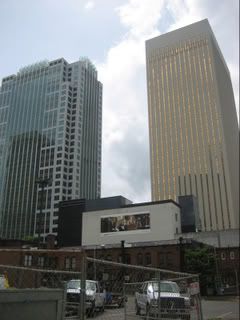 Sorry it's sideways (photobucket is giving me issues tonight and I lost patience!) This is pretty cool though. This is again on my walk between the train station and work. The cool part though you'll see in the next picture.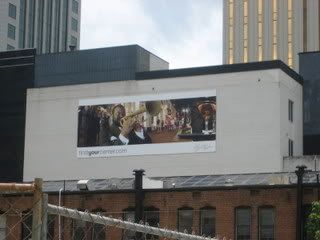 This billboard is actually work done by the company I work for! Pretty exciting! They have a whole series of them around the city--it's one gigantic panoramic-style picture of all the different kinds of life in Charlotte. Check it out on seanbusher.com under their images section.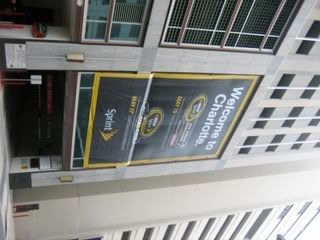 hehe, this picture is for Mom. Made me think of Doug and all of the jokes he makes about Nascar being Mom's favorite 'sport.' Ahh church jokes, love em.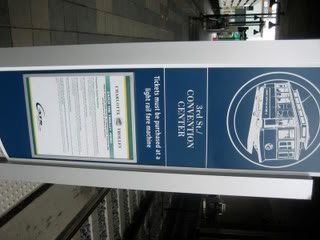 So here's where I get on to get home ( and off to get to work!) This is one of three uptown (which is the same as downtown just called uptown because Charlotte is on a hill...or so I've heard) stops on the light rail. 
Nifty ticket thingy. I use my card everyday to buy a 1.30 ticket. Gasp. Don't yell at me, but I never have change!!! 
This is what a light rail train looks like! Unfortunately this one was going the wrong direction and I had another 10 minutes to wait for mine. Sigh.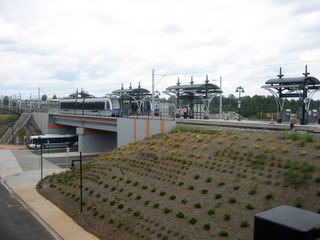 Here's a look at the station where I get on the rail in the mornings. There's a parking garage behind me that gets full around 8:45 each morning so I have to be an early early bird. 
Aaaaaand here's how I spend most of my driving time. In traffic! Charlotte traffic is horrific! The one time I drove home from downtown it took me an hour and 20 minutes. YUCK! I love the light rail because I get to read instead of yell at drivers!!! Plus, I'm helping the environment. Gotta love that. That's all for now, hope I didn't bore you!!
Missin Toledo...kinda. Missing my friends & fam a WHOLE lot!
with love,
Rach