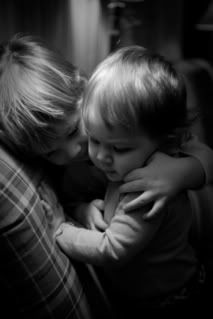 Today I was plagued by some sort of unnatural, unquenchable, unsatisfiable hunger. Even dinner, whole wheat spaghetti and meat sauce, couldn't shake it. But this isn't not about dinner, really. It's about our dinner guests.
Cyrus and Eisley joined us for an evening of spaghetti, meat sauce, salad, and veggie tales. It was during this dinner that I realized I am by no means ready to have little ones of my own. This isn't a startling realization or anything - but it was a confirmation. I love these two, especially when Cyrus wants to give "bebe" a kiss and a hug. When Eisley grins and giggles, it definitely melts my heart. I have some friends who are happily married, and I can see it in them. That look. When they think nobody is watching, and they let their guard down for a moment, it's there. That yearning for motherhood, for diapers and sippy cups and potties and ni-nights.
I certainly don't criticize here, and I probably will get that "look" eventually. But for now, much to my Mom and Dad's relief, I am happily child-less.
...and still quite hungry.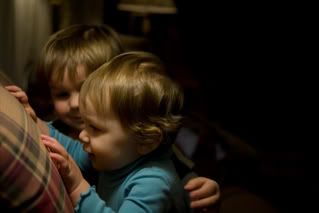 [They are pretty darn cute though aren't they?]