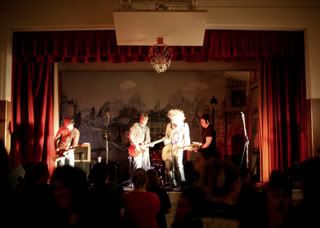 Eric had shows both Friday and Saturday night. It was a musical weekend for me, to say the least. I'm not particularly blown away by this photo, technically it's not great. But it makes me feel something. I can't put my finger on it, but I just love the stage, with the curtains and the crowd. It seems trivial, quaint. High school. But those all sound so negative, and I don't feel negative - just... something. Argh, I hate not having words to express my thoughts.
On a side note, the Steelers just won the superbowl. I'm only excited because that means it's over and now the Office one hour extravaganza can air. Ohhh boy!
Also,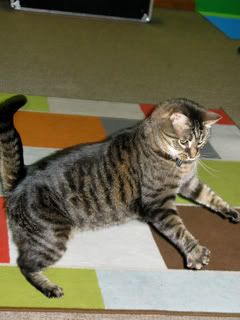 I will never buy an overpriced cat toy again. My cat LOVES pipe cleaners. I only found this out after a happy accident during Halloween. You see, I was dressed up as a Letter Person (specifically, the letter L). My costume was going to include some creative use of the pipe cleaners, but they were left off at the last minute - left sitting on my coffee table. Crackers [the cat] discovered his new favorite play-thing. I am thrilled.
Office time!